Introducing LED Sign City BD: Your Gateway to Illuminating Branding
Empower your business with our best company LED Sign City BD, your ultimate destination for captivating. These signs are meticulously designed to enhance your visibility, engage your audience, and make a striking statement. Whether you're a business aiming to stand out, a retailer looking to draw in customers, or an event organizer aiming to leave a lasting impression, LED Sign City BD is your local solution for top-quality LED adkey Signs.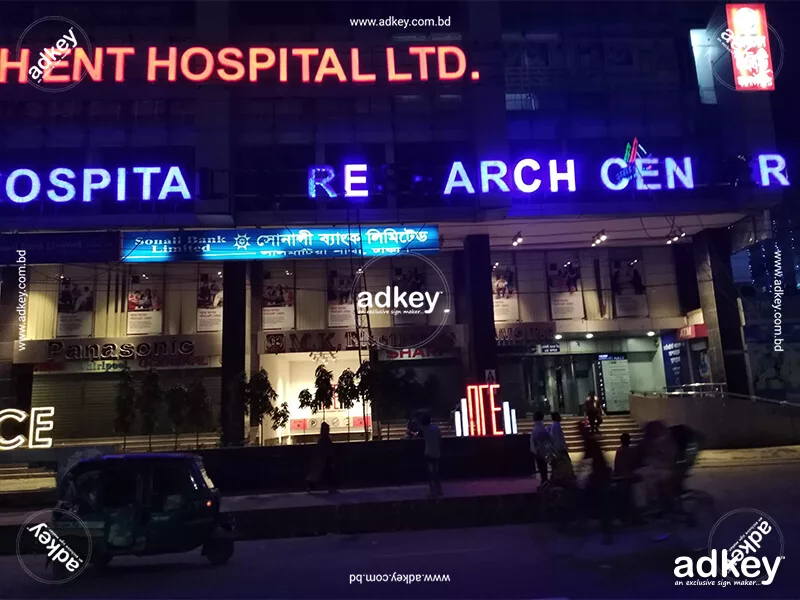 Best LED Sign City BD | LED adkey Signs | Company in Dhaka Bangladesh.
Key Features:
Bespoke Brilliance: At LED Sign City BD, we believe that every brand and message is unique. Our LED adkey Signs can be customize to align perfectly with your vision. You have the power to choose the size, colors, and design elements that seamlessly mirror your message or brand.
High-Impact Illumination: Our LED adkey Signs incorporate cutting-edge LED technology, ensuring that your message shines vibrantly, day and night. These signs aren't just seen; they're remembered, making them ideal for both indoor and outdoor settings.
Local Expertise: Our signs are crafte by skill local artisans who take pride in bringing your vision to life with precision and artistry. This attention to detail ensures that your sign is a true work of local craftsmanship.
Energy Efficiency: In addition to visual impact, our LED Signs City BD embraces energy-efficient LED technology. This not only lowers your operational costs but also reduces your environmental footprint, showing that you care for your business and the environment.
Versatile Placement: Whether you want your sign displayed indoors or outdoors, our LED adkey Signs offer flexibility. Ideal for businesses, retailers, events, and personal spaces, they are a versatile tool for leaving a powerful impression.
Low Maintenance: These signs are virtually maintenance-free, thanks to long-lasting LED lights. Minimal effort is need to keep your sign looking its best, ensuring it continues to shine brightly.
Durability Assured: Our LED adkey Signs are construct from quality materials, making them suitable for various weather conditions. They are buil to last and endure the test of time.
LED Sign City BD | LED adkey Signs | Dhaka BD
Invest in a sign that fuses style, functionality, and individuality. Order your LED adkey Signs from LED Signs City BD today and illuminate your brand or event with brilliance and efficiency. Your vision deserves to shine brightly, and our local artisans are here to make it happen.
Our Services:
Custom Neon Sign | Neon Sign BD | Dhaka BD | Name Signs | Led Neon Lights | Maker Company BD | Personalized Gifts | Wedding Signs | Name Signs | Led Neon Lights | Neon Signs | Neon Sign bar|
Neon Sign | Free Shipping | Sale Price | Original Price | Custom Neon | Ad vertisement | Wall Decor | Sign Custom | Seller ad | Neon Light | Neon Signs | Wedding Neon | Wall Art | Logo Sign | Room Decor | Light Sign | Home Decor | Name Neon | Bar Sign | Sign Neon | Business Sign | Backlit Sign | Acrylic Sign | Night Light | Music Neon | Sign Music | Cave Sign | Decor Neon | Aesthetic Custom | Name Sign | Metal Sign | Salon Decor | Sign Bedroom | House Number | Sign Night |
Personalized Gift | Sign Wall | Sign Wedding | Ledding Sign | Custom Business | Custom Metal | Business Logo | Sign Light | Beauty Salon | Metal Wall | Bedroom Sign | Personalized Gifts | Music Wall | Sign Name | Sign Man | Sign Ersonalized | Neon Bar | Wood Sign | Buyer Avatar | Listing Image | United States | Last Name | Christmas Gift | Gift Guide | Personalized Advertising.