The LED Sign Board for Shop
LED sign board have become increasingly popular among businesses due to their numerous benefits. These boards are visually appealing, cost-effective, and durable, making them an excellent investment for any business. In this article, we'll delve into why an LED sign board is a must-have for every shop owner and the various types of LED signs available.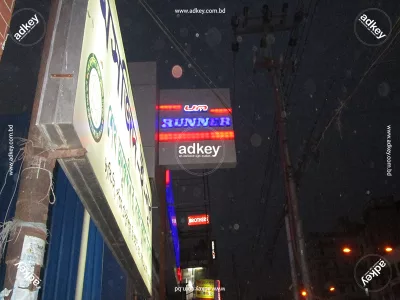 Benefits of an LED Sign Board:
1. Better Visibility
LED signs are attractive and draw the attention of passersby, making them useful in promoting your business. These signs are highly visible in various lighting conditions, ensuring that your message comes across even at night. An LED sign board will also make your business stand out in a sea of other businesses, increasing your chances of getting more customers.
2. Durability
Compared to traditional signboards, LED signboards are significantly more durable. They are made with high-quality materials that can withstand even the harshest weather conditions. Unlike other signboards that can fade or wear out over time, LED signs are designed to last and maintain their brightness and clarity for years.
3. Cost-Effective
LED signboards are a cost-effective option for businesses. They require less maintenance and consume less energy, resulting in reduced utility bills. They are also versatile, allowing you to change your message or promotions regularly without incurring extra costs.
4. Easy to Personalize
One of the unique benefits of LED sign boards is that they are highly customizable. You can personalize your message, design, and even the colors used on the sign. This allows you to create a sign that truly reflects the personality of your business.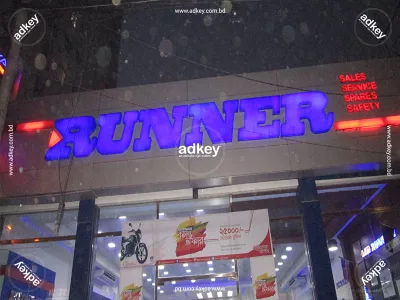 Types of LED Signs for Shops:
1. Indoor LED Signs
Indoor LED signs are suitable for shops located in malls or other indoor locations. They are perfect for displaying messages, promotions, or the name of your shop. Indoor LED signs come in various shapes and sizes, allowing you to find a design that fits your space.
2. Outdoor LED Signs
Outdoor LED signs are ideal for shops located along busy streets or highways. These signs are designed to withstand harsh weather conditions and remain visible at night. Whether you choose an illuminated channel letter sign or an LED message board, an outdoor LED sign will draw attention to your shop and increase your visibility.
3. Window LED Signs
Window LED signs are perfect for shops located on a busy pedestrian street. They are designed to hang on windows, allowing pedestrians to see the message or promotions from a distance. These signs are easy to see during the day and night, ensuring that your message reaches a broader audience.
An LED sign board is no longer a luxury but a necessity for any business that wants to stand out in the crowd and attract more customers. The benefits of an LED sign board are numerous – better visibility, durability, cost-effectiveness, and ease of personalization. With the various types of LED signs available, you can choose the one that best suits your needs and budget. So, if you want your shop to stand out and attract more customers, consider investing in an LED sign board.
Why It's a Must-Have for Every Business?
In today's world, businesses are looking for innovative ways to grab the attention of their prospective customers. With so much competition, companies need to ensure that they stand out in the crowd. One such way is by using an LED sign board for the shop.
Terms and Conditions:
Along with two Years Service with Materials Warranty.
Contact us for more information:
Phone: 01787 – 664 525, 01787 – 664 523
Visit our Site://adkey.com.bd/
E-mail: adkeylimited@gmail.com
Corporate Office:
House: 395/2k, Mazar Road, Section: 01, Mirpur, Dhaka-1216, Bangladesh. 1216
To Visit Our Page:
Website: https://adkey.com.bd/
About Page: https://adkey.com.bd/about-us-3/
Portfolio Page: https://adkey.com.bd/portfolio/
Contact Page: https://adkey.com.bd/contact-us/
Facebook Page: https://www.facebook.com/adkeyLimited
Instagram: https://www.instagram.com/adkeylimited/
Twitter: https://twitter.com/adkeyLimited_bd
Tumblr: https://www.tumblr.com/adkeylimited
Medium: https://medium.com/@adkeylimited
Pinterest: https://www.pinterest.com/adkeyLimited/
Bikri Sohoj: https://www.bikrisohoj.com/dashboard
ClickBD:https://www.clickbd.com/
Led signbd Neon sign bd Name platebd Ledsign board Neon signboard Leddispla yBoard Aluminum profile box Led light Neon light Shop sign board Lighting sign board.Shop sign bd  Billboard bd Acrylic sign board price in bangladesh  profile box bd Backlit sign board bd bell sign bd Dhaka sign bd Sign makers bd.
Aluminum profile box bd SS top letter Led sign board price in bangladesh Neon sign board price in bangladesh Digital sign board price in bangladesh. 3D SS sign board bd Moving display bd
Name plate design for home Nameplate price in bangladesh Neon signage Led signage.