Acrylic LED Sign Board:
Transform Your Business Image with Style And Elegance
The world of advertising and marketing is all about making the right impression on the customers. In today's digitized world, businesses have to put in more effort than ever to stand out. A robust branding and marketing strategy is essential for success. One easy way to attract customers' attention is by the use of an acrylic LED sign board.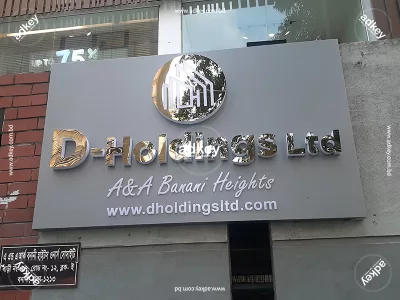 An acrylic LED sign board is not only cost-effective but also looks impressive. It is a great way to showcase your business's identity and stand out from the competition. Whether it is a restaurant, saloon, or retail store, acrylic LED sign boards can work for every business.
The use of high-quality materials like acrylic, stainless steel, and LED lights adds elegance and sophistication to the signboard. The 3D acrylic high letter and 3 SS high letter make the signboard attractive and easy to read from a distance.
The use of high-quality power supply and cables ensures that the signboard works efficiently. LED lights are energy-efficient and long-lasting, which means that the signboard's maintenance cost is relatively low.
In Bangladesh, the market for acrylic LED signboards has grown considerably in the last few years. The number of businesses opting for acrylic LED signboards has increased, creating a demand for new models in the market.
Here are some of the popular models of Acrylic LED sign boards in BD –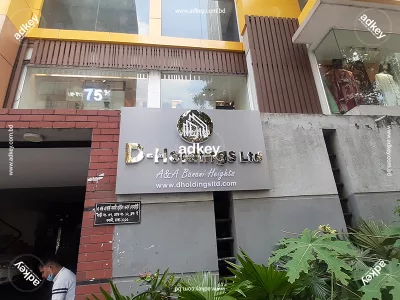 Delta Acrylic LED Sign Board – This model comes with a unique design and looks elegant. The 3D acrylic letters and the LED light make it visible from afar.
Glittering Acrylic LED Sign Board – This model is made of high-quality acrylic material with LED lights, adding a touch of glamour and glitter to the signboard. It gives your business a modern and stylish look.
3D SS High Letter LED Sign Board – This signboard has a Stainless Steel 3D high letter with LED lights, which ensures that the board is visible even during the night.
Front-Lit Acrylic LED Sign Board – This model's primary focus is to make the signboard look appealing during the day with the 3D acrylic letters and high-quality front-led light.
Signage Making
Our experienced team of professionals specialized in signage making. We have the expertise needed to bring your vision to life quickly and efficiently. You can rely on us to provide you with the high-quality signage solutions that your business needs to succeed.
Our Service:
All Kinds of Led Sign, Besides Neon Sign, Led Sign Board. Moreover  Name Plate. Also Billboard, Digital 3D Print.More ever  Pana lighting board. Also all types Bata model board Shop Sign. Besides Lighting Sign Board, Acrylic Sign, Moving Display, Profile Box, Fair Stall & Event Management Ad Etc. In addition Advertising and  Branding Service All Over Bangladesh.
Led sign bd Neon sign bd Name plate bd Led sign board Neon sign board Led display Board Aluminum profile box Led light Neon light Shop sign board Lighting sign board. Shop sign bd  Billboard bd Acrylic sign board price in bangladesh  profile box bd Backlit sign board bd bell sign bd Dhaka sign bd Sign makers bd.
Aluminum profile box bd SS top letter Led sign board price in bangladesh Neon sign board price in bangladesh Digital sign board price in bangladesh. 3D SS sign board bd Moving display bd
Name plate design for home Nameplate price in bangladesh Neon signage Led signage.
Product Specification
| | |
| --- | --- |
| Usage/Application | Signage Product |
| Shape | Rectangle |
| Body Material | Acrylic |
| Material | Acrylic |
| Product Type | Acrylic LED Sign Board |
| Power Source | Electric |
| Pattern | Printed |
| Country of Origin | Made in Bangladesh |
Terms and Conditions:
Two Year Free Services with Material's Warranty.
Contact us for more information:
hot line: 01787 – 664 525, 01787 – 664 523
e-mail: adkeylimited@gmail.com
Corporate Office:
House: 395/2k, Mazar Road, Section: 01, Mirpur, Dhaka-1216, Bangladesh. 1216
And then Visit Our Page:
Website: https://adkey.com.bd/
About Page: https://adkey.com.bd/about-us-3/
Portfolio Page: https://adkey.com.bd/portfolio/
Contact Page: https://adkey.com.bd/contact-us/
Facebook Page: https://www.facebook.com/adkeyLimited
Instagram: https://www.instagram.com/adkeylimited/
Twitter: https://twitter.com/adkeyLimited_bd
Tumblr: https://www.tumblr.com/adkeylimited
Medium: https://medium.com/@adkeylimited
Pinterest: https://www.pinterest.com/adkeyLimited/
Bikri Sohoj: https://www.bikrisohoj.com/dashboard
ClickBD:https://www.clickbd.com/.