LED Signage
LED signage is a type of illuminated signage that uses light-emitting diodes (LEDs) to display messages, graphics, and other visual content. LED signage is used in a variety of settings, including retail stores, restaurants, airports, and public spaces.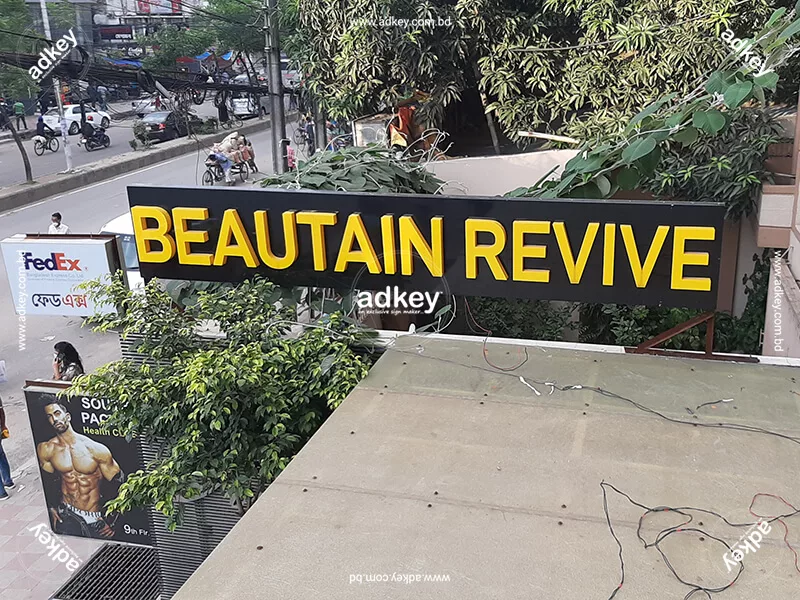 Acrylic High Letter
Acrylic high letters are a type of lettering that is made from acrylic material and raised above the surface of a sign. These letters are often used in signage to create a three-dimensional effect and attract attention to the message being displayed.
Cable
Cable refers to the electrical wiring used to connect the LED lights and power supply components of an LED signage display. Cables are an essential component of any LED signage system, as they provide the necessary power and data transfer between components.
LED Light
LED lights are a type of lighting technology that uses light-emitting diodes to produce light. LED lights are highly efficient, long-lasting, and environmentally friendly compared to other types of lighting. They are commonly used in LED signage displays to illuminate the message being displayed.
Protection
Protection refers to the measures taken to protect LED signage displays from damage due to weather, vandalism, or other hazards. Protective measures may include the use of weather-resistant materials, installation in a secure location, and the use of security cameras to deter vandalism.
Power Supply
The power supply is an essential component of any LED signage display. The power supply converts the electrical current from the wall outlet into the correct voltage and current needed to power the LED lights and other components of the display.
Installation
Installation refers to the process of assembling and installing an LED signage display. Proper installation is essential to ensure that the display functions correctly and safely. Installation may include mounting the display, connecting cables and components, and testing the system to ensure everything is working correctly.
In summary, LED signage displays are an essential part of modern advertising and communication. Components like acrylic high letters, cables, LED lights, power supplies, and protective measures all contribute to creating a high-quality and effective signage display. Proper installation and maintenance are also crucial to ensure that the display functions correctly and safely over time.
Our Service:
All Kinds of LED Sign, Besides Neon Sign, LED sign Board. Moreover Name Plate. Also Billboard, Digital 3D Print.More ever Pana lighting board. Also all types Bata model board Shop Sign. Besides Lighting Sign Board, Acrylic Sign, Moving Display, Profile Box, Fair Stall & Event Management Ad Etc. In addition Advertising and Branding Service All Over Bangladesh.
Led sign bd Neon sign bd Name plate bd Led sign board Neon sign board Led display Board Aluminum profile box Led light Neon light Shop sign board Lighting sign board. Shop sign bd Billboard bd Acrylic sign board price in Bangladesh profile box bd Backlit sign board bd bell sign bd Dhaka sign bd Sign makers bd.
Aluminum profile box bd SS top letter Led sign board price in Bangladesh Neon sign board price in Bangladesh Digital sign board price in Bangladesh. 3D SS sign board bd Moving display bd
Name plate design for home Nameplate price in Bangladesh Neon signage Led signage.
Product Specification
| | |
| --- | --- |
| Usage/Application | Signage Product |
| Shape | Rectangle |
| Body Material | Acrylic |
| Material | Ac |
| Product Type | Acrylic LED Sign Board |
| Power Source | Electric |
| Color | Any color you like |
| Country of Origin | Made in Bangladesh |
Our LED Signage is made of high-quality materials, ensuring durability and longevity. The light source is energy-efficient, saving you money on your electricity bill while also being environmentally friendly. You won't have to worry about constant bulb changes or maintenance fees associated with traditional signage.
We offer a variety of different types of LED signage, from indoor to outdoor options. The indoor signage is perfect for storefronts, shopping malls, and other indoor spaces where advertising is essential. Our indoor LED signages come in different colors and sizes, so you can choose what best suits your business.
Our outdoor LED signage is designed to withstand the harsh weather elements, ensuring that your sign stays in perfect condition no matter what the weather is like. Whether it's snow, rain, or intense sunlight, our outdoor LED signage has you covered. You can be confident that your sign will be seen by everyone who passes by.
Terms and Conditions:
Two Year Free Services with Material's Warranty.
Contact us for more information:
hot line: 01787 – 664 525, 01787 – 664 523
e-mail: adkeylimited@gmail.com
Corporate Office:
House: 395/2k, Mazar Road, Section: 01, Mirpur, Dhaka-1216, Bangladesh. 1216
And then Visit Our Page:
Website: https://adkey.com.bd/
About Page: https://adkey.com.bd/about-us-3/
Portfolio Page: https://adkey.com.bd/portfolio/
Contact Page: https://adkey.com.bd/contact-us/
Facebook Page: https://www.facebook.com/adkeyLimited
Instagram: https://www.instagram.com/adkeylimited/
Twitter: https://twitter.com/adkeyLimited_bd
Tumblr: https://www.tumblr.com/adkeylimited
Medium: https://medium.com/@adkeylimited
Pinterest: https://www.pinterest.com/adkeyLimited/
Bikri Sohoj: https://www.bikrisohoj.com/dashboard
ClickBD:https://www.clickbd.com/